This appeared in my inbox this morning, from CASSE Executive Director Rob Dietz. I'm the first official monthly donor to CASSE, and I suggest you think about doing the same thing – for the price of a couple lattes a month you can help support the fight for a sustainable, socially just economy. What a great way to honor the one-year birthday of my son (yesterday)!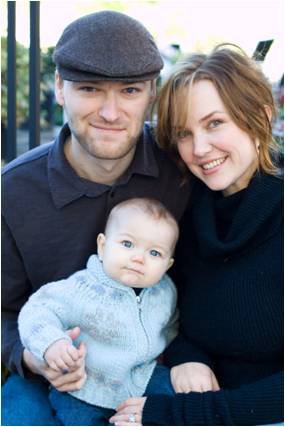 How can we build an economy that supports our children?  How about one that doesn't undermine the earth's natural systems?  CASSE is one of the only organizations in the world tackling these questions head-on and providing hopeful and truthful answers, a fact that Josh Nelson appreciates.
Josh (pictured with his family) just became our first monthly donor online.  He visited our website and arranged for his credit card to be billed $10 per month to help us promote a sustainable and fair economy.  The most touching part about Josh's gift is that he designated it in honor of his young son, a wonderful tip-of-the-hat to our role in safeguarding the well-being of future generations.  If you want to see CASSE continue doing what we do, please follow Josh's lead.  Visit our online donation page and give a recurring donation that feels right to you. We consider all recurring contributors to be official CASSE members.
Donate now and join CASSE's David vs. Goliath struggle against the powerful array of pro-growth fanatics.  We need funding from citizens like you to keep this struggle alive.
Thank you,
Rob Dietz
Executive Director, CASSE
steadystate.org